All Cleveland Kali Students are ask to attend.
Sign up today for the Martial Arts Weapons event of the year!

This amazing three day camp will cover: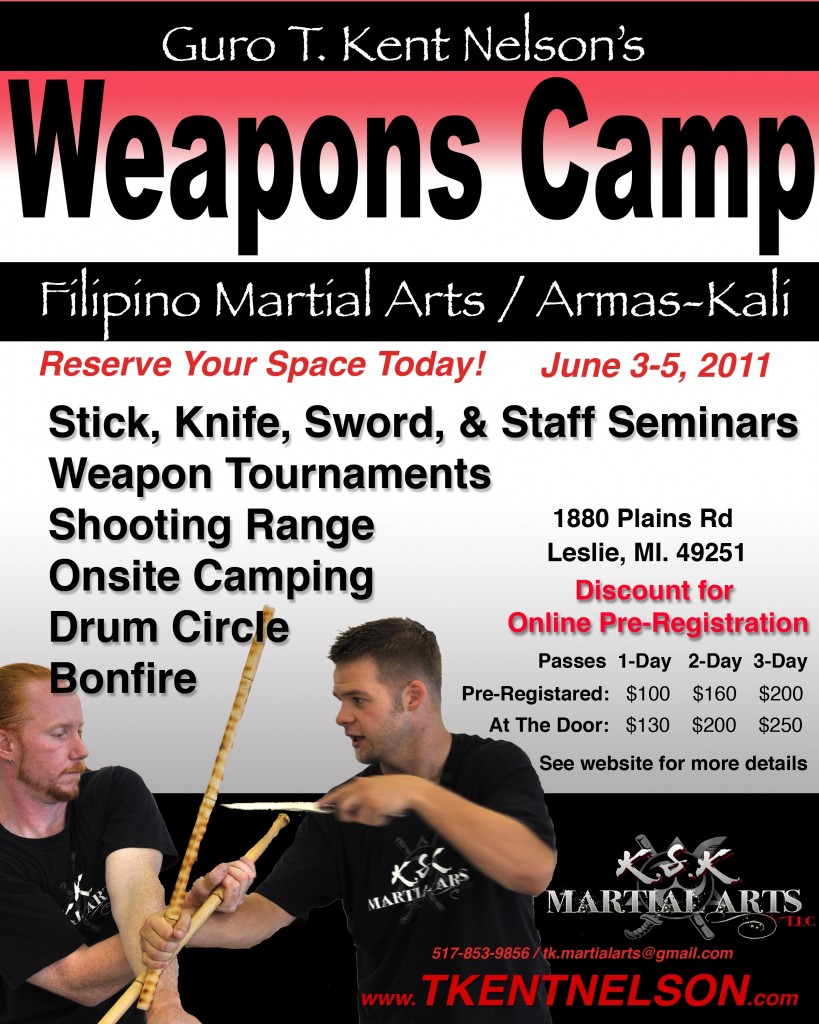 – Single & Double Stick,
– Single & Double Knife
– Single & Double Sword
– Espada Y Daga
– Filipino Staff
Seminars on a wide range of subjects including:
-Simple & Direct Combat Application
– Disarming
– Flow Drills
– Trapping
– Knife Tapping & Counter Tapping
– Technique Development
– and More
A Free Weapon Tournament will be held at the camp. Participation is optional.
Also included will be a Shooting Range for basic gun awareness, safety and handling for Rifle & Pistol. There will be both a Static Target Shooting range, as well as a Combat Shooting range and competition. Participation Optional.
($10 extra, due to ammunition costs)
Although there are Motels in the surrounding area, Onsite Camping is available. Electrical hook-up available for RV's. 24 hr. bathroom access available as well.
($20 additional flat fee for onsite camping)
DISCOUNT for online Pre-Registration
Reserve your spot today and take advantage of big savings by pre-registering online. You can purchase passes for One, Two, or all Three days of this event.

CLICK HERE TO PRE-REGISTER
Be sure to choose which options you would like from our drop-down menu before purchase.

DATE & LOCATION:
JUNE 3-5, 2011
1880 Plains Rd.
Leslie, MI. 49251
SCHEDULE:
Friday – June 3, 2011
10-Noon Registration & Camping Set Ups
12pm – Combat Interception
2pm – Single Knife flow development
4pm – Stick Disarms
Tournament – Single Stick Hand Sparring
Shooting Range – Rifle: Static Target Shoot (all attendants welcome)
Saturday – June 4, 2011
10am – Combat Entries with the Stick
12pm – The Knife Matrix: Clearing, Tapping & Trapping
2pm – Sumbrada Flow (picking out the details) Beg. & Adv.
4pm – Intro to Armas-Kali Sword method (Espada Y Daga included)
Tournament – Single Stick / Single Sword / Double Stick
Shooting Range – Pistol: Combat Shoot & Competition ($10 extra charge for Amo)
Hand Drums Class / Drum Circle
Bonfire
Sunday – June 5, 2011
10 – Espada Y Daga
12 – Staff
Knife Thorwing competition
Certificate Presentation for Total Camp Completion
COST:
Passes—– — – 1 Day –2 Days –3 Days
Pre-registered- -$100 –$160 —-$200
At The Door— -$130 –$200—–$250
Click HERE to Pre-Register Online Be sure to choose which options you would like from our drop down menu when you purchase your Passes.